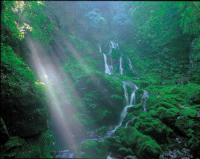 When someone you care about hurts you, you can hold on to anger, resentment and thoughts of revenge — or embrace forgiveness and move forward. Nearly everyone has been hurt by the actions or words of another. Perhaps your mother criticized your parenting skills, your colleague sabotaged a project or your partner had an affair. These wounds can leave you with lasting feelings of anger, bitterness or even vengeance — but if you don't practice forgiveness, you might be the one who pays most dearly. It's like drinking poison and expecting the other person to die.
By embracing forgiveness, you can also embrace peace, hope, gratitude and joy. Consider how forgiveness can lead you down the path of physical, emotional and spiritual well-being. NOW that is something to aim for!
What is forgiveness? Generally, forgiveness is a decision to let go of resentment and thoughts of revenge. The act that hurt or offended you might always remain a part of your life, but forgiveness can lessen its grip on you and help you focus on other positive parts of your life. Forgiveness can even lead to feelings of understanding, empathy and compassion for the one who hurt you. It is about changing the way you view the world and others.
Forgiveness doesn't mean that you deny the other person responsibility for hurting you, and it doesn't minimize or justify the wrong. You can forgive the person without excusing the act! It is not about condoning! Forgiveness brings a kind of peace that helps you go on with your life in a Healthy, Inspiring and Purposeful way.
For more support in releasing the stories that keeps YOU locked in the past contact us for a complimentary session!!! Our join our Forgiveness conversation on Saturday, April 22nd at 2:00pm at Ayama Yoga center. Visit www.ayamayoga.com for more details.