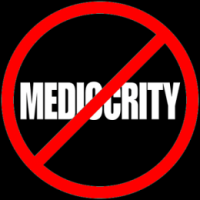 This week we had the opportunity during meditation to look at our agreement with mediocrity. We defined this as the status quo or better yet the "good enough" state of being. Is is possible to suggest that good is the enemy of great?
Is it possible to ponder that perhaps the reason we don't have great schools is because we have good schools? Or the reason we don't have great government is because we have good government ?
Better yet the reason we don't have great family, marriages or relationships is because we have good ones? Few people attain great lives in large part because it is just so easy to settle for a good life. What do you think about that? The vast majority of companies never become great precisely because the vast majority become quite good and that is enough. These are some excellent points to ponder.
Break your agreement with mediocrity. Don't accept the status quo of life, instead step into the awareness that there is unlimited potential within you and everyone else waiting to be birthed. I often remember this rhyme I learnt way back when – "good, better, best, never let it rest. Till your good becomes better and your better becomes best = GREAT." Try committing that to memory this week as you move through the activities of your day. Allow this mantra to keep you on the path to greatness in everything you do.
Remember though that if you stay too long at the best level it will soon become the status quo. This is so as we are always in a state of evolution or a state of becoming. Breathe that in…. To maintain greatness you have to be in a continuous state of renewing and staying on the cutting edge of pushing pass your comfort zone. "You will be pushed by the Universe to grow" – as our Spiritual Teacher Michael Beckwith likes to remind us – "pain pushes until your vision pulls you." Too often we are being pushed by painful circumstances and situations, surrender to the higher vibration that is seeking to emerge through you and let your GREATNESS be born.
Affirm: I always knew I was destined for greatness and so it is.