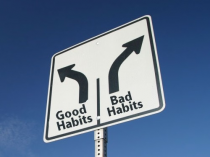 The next article I had to prepare for Adventure in Faith was Mental / Emotional Unfoldment. How fitting it was that Charles did the message on this particular week and everything worked on brilliantly. His message was on ACCOUNTABILITY….and it definitely hit on my topic….
Habit:
"Get your foot out the chair" was the constant scream coming from down the hall as my grandmother sat behind her sewing machine. She knew the movement of every grandchild in the house without moving from behind her sewing machine. Mama – the matriarch of the family exudes the strength of many lions in my estimation. She is the mother of 9 children, 21 and counting grandchildren, 5 and counting great-grand and simple put the mother of every community I have ever lived in growing up. She fed everyone that came to the gate dirty, clean, old and young – out of a pot that could hardly feed the occupants of the house she made miracles possible. I slept in my grandmother's bed until I was 19 years old, partly because financially that was the line-up of the house and partly because that was where I wanted to be – either in her bed or by the foot of the sewing machine.
A fascinating woman of wisdom, strength, compassion and unconditional love. Mama stories had you laughing to tears or staying up late at nights asking how did she… .? There was no lesson Mama taught us without a story and whether the story was true or not, that didn't matter. She would give you the eyes that screamed I have experienced this before – trust me.
As I navigate my own journey today there isn't a "new age" concept that I cannot trace back to what Mama said. One such saying is "a habit is a habit that you habit all the time". I don't get it Mama, how can you use back the same word in the sentence while defining what the word means? This went against everything I was taught in school. She would still respond Shakira – a habit is a habit that you habit all the time – you will see. Mama wouldn't allow us to put our feet in the couch or sit on the bed with the clothes we had on all day for example. We had to practice at home how we would behave when we went to other people house. I always argued (to myself of course) I can do this at home and I had discipline enough to not do that at some else's house. But every day we heard the same shout followed by "a habit is a habit that you habit all the time."
When I formally began studying Truth I was introduced to the workings of the conscious, subconscious and super conscious phase of mind. My eager mind wanted to take hold of why do I or people act the way they did – where was this coming from and how could I change this? After all, I was eager to see some different demonstrations in my life. With much contemplation and study what I have come to understand is if my actions are coming out of my subconscious phase of mind, which is the storehouse of the habits I have developed over time, then my job TODAY will be to create new habits. Mama was right all this time "a habit is a habit that you habit all the time" and I would be darn it is the most challenging task to discipline yourself to adapt a new habit.
If a new life is what you seek you will have to develop a new habit in your daily life. You will have to train your thoughts, your actions and reactions to behave in a new way. This is why we practice meditation, silence, study and prayer. So that a new habit can be written on the walls of your subconscious – by consistently and consciously being and doing what we desire to experience. A higher demonstration becomes second nature to you when you can pull from the subconscious phase of mind a higher way of being, doing and thinking. Let your habits be the habits you are partaking in (even when no-one is looking) at all times and you will ultimately begin to live a H.I.P. life. Namaste