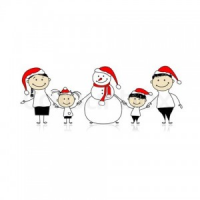 Families that sweat together, stick together. Okay, that may not be a pleasant thought, but the point is crystal clear. Healthy, Inspiring, Purposeful family interaction enriches each family member's emotional and spiritual health.
The holiday season is a time for family interaction, board games, backyard football, touring the city to see Christmas lights and perhaps delivering turkey dinners to needy families? The list goes on and on with activities the season brings – Christmas Eve candlelight service, a fun seasonal movie night, opening gifts together. This is a wonderful time to enjoy meals with everyone at the table, read the Christmas story out loud on Christmas morning or whatever story suites your family tradition.
If this hasn't been the experience of your family, select one activity from the list above and do all you can to make it happen. If this is how your family interacts during the holidays, thank God for the blessing of time together. If you are living on your own and away from family right now, create holiday traditions with a group of friends—or become an "adopted" member of a family at your church or in your neighborhood. Ask God to make this a season of togetherness for you and those you love. Remember, you are enough to make a positive difference in your family this holiday season.
Affirm: God, thank You for the people in my life. Be close to us this Christmas and draw us nearer to You and nearer to each other. Amen.