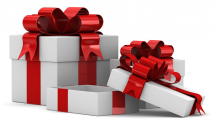 For it is in giving that we receive – St. Francis of Assisi
This time of year many of us pause to take a good hard look at what it is to give as well perhaps at what it means to receive. I think about the gifts over time that I've wrapped to give and unwrapped to receive and how I honored some, yet others not so much.
There are different types of gift un-wrappers.There's the type that like to open cautiously, one piece at a time. Others like to just tear into the wrapping for more immediate access to the content. Some may even shake the box and than sit it down and for a moment in savored anticipation. The same is true for the wrapping and the amount of time and care or lack thereof, which is given to how the gift will be received. I'm a bit of all of these.
There are times I'll just tear into it. When wrapping I may very cautiously and carefully cut, fold and tape. While other times I may just hurry through the process or on occasion ask someone to do it for me. As I pause and look at each of my life's gifts and how I honored them, I pull back one piece of the sticky stuff holding the wrap in place and then tear into another section with abandon, all of this works for me. Some in very apparent ways as I'm able to gain insight as to what's waiting to reveal and some less apparent, requiring more shaking, tearing and caution in loosing the sticky stuff of life.
How do you deal with the sticky stuff of life – like what happened in Connecticut. Well, we don't try to ( our prayers go out to the families) spiritualize it away. Do you deny you're hurt, shock or upset? Beckwith so wonderfully suggested on his show that we should ask ourself when our heart is broken open – what quality am I asked to bring / gift to the world, what is God calling me to be so God can show up in the world? Maybe its love, compassion, patience, tolerance, understanding. There is no problem without the answer and you are the answer. You are enough! You are God's gift to the world.
How do you like to reveal your gifts? What is revealing itself as your now? How will you package your gift and how will it be unwrapped?
Affirm: The gift I unwrap….is ME. I am the greatest gift that God gave to the world. I am ENOUGH
Join our communities on Facebook and Twitter