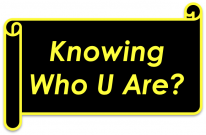 The journey towards deeper AUTHENTICITY starts with our awareness of ourselves. There is a difference between knowing about yourself and actually being fully aware of yourself.
Knowing about yourself while important is much about content and details and much less about real feelings and awareness. We know about ourselves by understanding facts and aspects of who we are, where we've been, what we've done, certain public qualities we have and so one. Other ways we can describe knowing about ourselves are the stories that we tell others about who we are, as well as the story that we tell ourselves – which are often very different from one another.
In either case, these stories aren't usually all that real and often are filled with lots of judgments, assessments, misrepresentations and beliefs about who we think we are, who we want to be or who we think we should be, – not who we really are. Being fully aware of ourselves is about looking more deeply within. It's about being able to see ourselves honestly, which is always the first step in speaking and living our truth our loud with others.
A good way to think about this is that in life there are things that are above the line (actions we take, habits we have, roles we play etc) and there are things that are below the line ( thoughts, feelings, attitudes, beliefs, values, imagination and much more). Since we live in such an action oriented results – driven world we focus most of our attention on what we do, the action we take, the roles we play or the habits we have ( or think we should have – all above the line stuff).
The more we are able to see and understand ourselves at the deepest (below the line) level the more access we have to be free, open and AUTHENTIC in our relationships, work and lives.
To Know Yourself More "DEEPLY" Take The Time To Follow These Steps:
1. Pay Attention
2. Learn About Yourself & Your Personality
3. Appreciate Your Strengths
4. Have Compassion For Your Weaknesses
5. Accept Yourself
6. Get Feedback
7. Choose To Grow

Until Next Time…
"Give Yourself Permission To Being Your Best Self™"