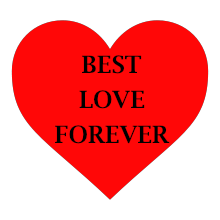 Who is your Valentine? With today being Valentine's Day, where are you looking for love and what exactly is love to you? Is it something that can be given or taken away? Behind anything we want, there's a feeling that's desired. When it comes to love, we often look to people, animals, nature and things, which are one way to experience love.
The love I am referring to isn't something that's transitory, outside of, nor can it be taken from us. It's not of a human nature and yet feels very personal. It's something we already have and are. The best love forever I'm speaking of is our relationship to God, as goodness and available to all. Divine Love includes such spiritual qualities as compassion, generosity and forgiveness.
Love includes an awareness of bliss and well being that is infinitely present and reminds us that we are all one. When we walk with an awareness of divine Love ( capital L) we bring the quality of holiness and oh, today becomes a holy day.
Fear and its painful effects disappears as we go about our day in the consciousness of Love. Love blesses all and never harms. It fulfills all our needs, Love completes us. this joy is ours today and always. No one can take it away. Let God be your Valentine this year. Court your relationship with the divine and have the best love forever. May you sing it or hum it and have the best Valentine's Day so far.
AFFIRM: I Walk With Love Today. God Is The Love In Which I Live And Breathe. Divine Love Inspires And Cares For Me This Day And Always.
For Some Audio Affirmations Click H.I.P. Inspirations
Until Next Time..Check Out Our H.I.P. Living Now Newsletter & Remember
"Give Yourself Permission To Being Your Best Self™"
 Join Our Communities on Facebook and Twitter