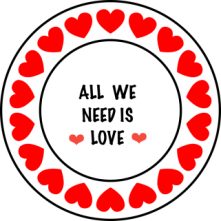 All we need is love, love, love… love is all we need – John Lennon
Love is the most powerful force on the planet. It is the one thing that heals all things and is the very essence of who are are. No matter what the question love is always the answer. We live in a culture that tempts us to look outside ourselves for love, but love is what we must bring to the party. We can never find in the external world what does not exist within us.
The quickest way to experience love is to activate it, not attract it. We experience love to the extent we allow it to come through us, not to us. Love has more to do with what we are looking with rather than what we are looking at or for.
In our loving we become aligned with our true nature, higher self or soul. If you are not being love in any moment you are cutting yourself off from the biggest part of who you are. That is why is feels so bad and reversely that's why is feels so good when you return to love….because you have come home to yourself. Be The Love….don't look for it. A flame doesn't look for heat, the ocean doesn't look for water and the sun doesn't look for sun-rays.
Self-love is the key. We train the Universe how to treat us by the way we treat ourselves. So be kind, loving and generous to yourself and the outside world will reflect an abundance of love in its various forms right back to you.
Practice seeing yourself and others as God would. Let your heart overflow with the sweet nectar of love and watch everything in you life improve. Lastly, on a regular basis ask yourself – "what would love do now?"
Affirm: Today I open myself to feel the love within, the love that always exists and the love that is forever available to me.
For Some Audio Affirmations Click H.I.P. Inspiration
Until Next Time..Check Out Our H.I.P. Living Now Newsletter & Remember
"Give Yourself Permission To Being Your Best Self™"