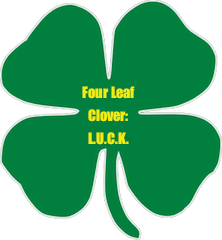 "Don't be afraid of the space between your dreams and reality. If you can dream it, you can make it so." ~ Belva Davis
Growing up my sisters and I would spend hours lying on your stomachs, searching for four-leaf clovers. We knew they were rare and like St. Patrick' s Day shamrocks brought good luck. If one of us found one we would make a silent wish for some good thing or event in our lives. we named our heart's desire and we expected wholeheartedly that it would be fulfilled.
It is much like when you blow out the candles on your birthday cake, see the first start of the evening or find a four-leaf clover. What do you wish for? What luck do you hope you will have? Is it true love, winning the lottery, relief from physical restrictions, a new car or some similar physical representation? Instead of hoping that by chance or luck your wish will be granted, why not Live Under Correct Knowledge. Take the time to go a little deeper into your wish? What feeling would you have if your request was granted? would you feel loved, appreciated, secure, healthy, attractive, capable, unlimited, abundant, confident, courageous, You Name It.
Now take some quiet time alone and find that feeling living within you. Sit and breathe deeply as you repeat "I am _________ (whatever quality you seek). Imagine yourself having that quality fully expressed as you.
What are you doing?
Where are you going?
What are you with?
How are you moving?
What are you wearing?
How are others reacting to you?
Capture that feeling and integrate it into your being so fully that you can easily recapture it when needed by simply pausing & going within. As you capture the feeling move through your day with it.
Affirm: I Living Under Correct Knowledge. I am one with the eternal life that created me. I see, claim and live my good life now. My outer world reflects my inner world. Namaste
To Listen To Audio Affirmations Click H.I.P. Inspirations
Until Next Time..Check Out Our H.I.P. Living Now Newsletter & Remember
"Give Yourself Permission To Being Your Best Self™" & Join Our Communities on Facebook & Twitter
 For More Info Email Us At charles.shakirahipcoaches@gmail.com