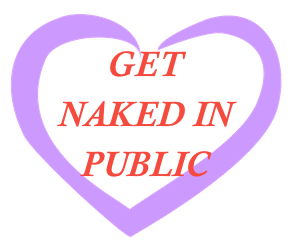 Make a commitment with yourself to be authentic in all aspects of your life, especially in how you relate to others. Get naked with your truth, offering the world your greatest gift: Your Authentic Self. I've learned that the world only want one thing from us, our Truth.
Throughout my life the more me I've become the more powerfully I express myself. This is available to you too, all of us have the capacity to release. Our message today it to be more real and honor the truth in all. Begin a practice of being yourself in conversations, on your dates, in your marriage, in the office, in your home and with your family.
We all thrive on true connection as human beings – so get naked with your truth. Don't deprive the world of your authentic talents and gifts. Even if it feels uncomfortable at first, go with it… you'll feel liberated in no time.  Start with these practical tips:
1. Be transparent – in your conversation and your presence with others.
2. Face everything and avoid nothing – handle what is before you no matter what.
3. Tell the truth no matter what – people will always have their own opinions about you, give up trying to be everything to everyone.
If you need more support in getting naked contact us, we love helping others getting undressed. Namaste, Live Long & Prosper.
To Listen To Audio Affirmations Click H.I.P. Inspirations
Until Next Time..Check Out Our H.I.P. Living Now Newsletter & Remember
"Give Yourself Permission To Being Your Best Self™" & Join Our Communities on Facebook & Twitter
 For More Info Email Us At charles.shakirahipcoaches@gmail.com