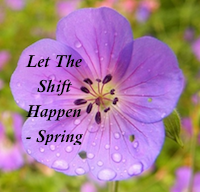 Glorious intoxication of the soul is the reward of all who seek it in the bosom of nature. ~ Gibran
March is the anteroom of April, the transitional turning point of seasons when cold, damps months of winter melt into deep sleep. Nature begins to turn up the thermostat, a prelude to the awakening of spring's bouquets. Understandably, the change occurs over a period of time. In this shift of seasons it occurs we are always in between two phases in life. We are always shifting – let it.
Between sleeping and awakening, between being an infant and becoming an adult, between preparing for a vacation and being employed, between jobs and relationships, between temporary failure and subsequent success – why even the fillings in a sandwich are between two slices of bread.
Pause and ponder momentarily – where are you in between now? Where are you shifting from or shifting to? Are you between holding onto outdated beliefs that no longer serve you or the vision for your life or allowing newness to express in your life? Are you in between resisting or persisting? Remember, it doesn't matter what occurred last season – more important is the direction in which you're veering now, the vision for your life. Be convinced you're in between periods are merely opportunities for gradual stages of your evolving, becoming more yourself – let the shift happen.
This is so poignantly expressed in Margaret A. Cracker's writing entitles Reflection: "The small boy sighed poor snowman and the woman replied he does not mind changing to water. Winter is gone and he longs to melt into the arms of spring." We too change with life's seasons, striving to transmute frozen forms into spirit's vibrant stream – yearning to flow unbounded through meadows of faith reborn. As one season shifts into the next, let your life shift from one stage to the next.
Affirm: This day I march forward to my personal drumbeat. God silently marches beside me in sync with the pulsating rhythm of the loving, giving Universe. I let the shift happen.
To Listen To Audio Affirmations Click H.I.P. Inspirations
Until Next Time..Check Out Our H.I.P. Living Now Newsletter & Remember
"Give Yourself Permission To Being Your Best Self™" & Join Our Communities on Facebook & Twitter
 For More Info Email Us At charles.shakirahipcoaches@gmail.com