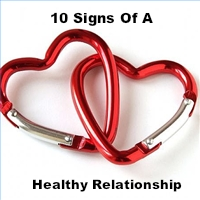 Are you experiencing a healthy relationship? Find out by answering yes to as many of the signs below as possible. Support is always available to move you forward in having the life of your dreams if need.
Here goes:
1. You feel secure and happy when you're together and alone – not sad, suspicious, angry or deprived.
2. You are inspired by each other to fulfill your dreams and become the best you can be.
3. You are generous and giving – you want to give all you can to your partner and are so fulfilled that you also want to give to everyone else around you.
4. You always keep your agreements, but never assume your mate will conform to certain behaviors unless there have been a previously discussed agreement.
5. Honesty is the most important quality of a lasting relationship which leads to trust. Trust is feeling that you can rely on one without question and you will not hurt each other. Feeling safe with each other is not an issue with you.
6. Equality: respecting that you both count.
7. Loyalty: being devoted to each other unquestionably, knowing you would not betray each other.
8. Laughter: you are able to have fun together and make each other feel good about the other.
9. Time: you make time to be together without distractions
10. Tenderness & appreciation: you are responsive to and grateful for each other, always treating each other with kindness.
To transform your current relationship and take it into new realms contact us about H.I.P. Relationship coaching.
Leave a comment and share with us.
To Listen To Audio Affirmations Click H.I.P. Inspirations
Until Next Time..Check Out Our H.I.P. Living Now Newsletter & Remember
"Give Yourself Permission To Being Your Best Self™" & Join Our Communities on Facebook & Twitter
 

For More Info Email Us At info@hipcoaches.com