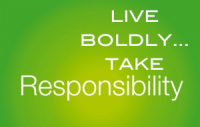 "You must take responsibility. You cannot change the circumstances, the seasons or the wind, but you can change yourself" – Jim Rohn
Taking 100% responsibility for our lives can appear to be a big task, daunting at times when we look at our lives over the years and the experiences we would rather not look at. However, if we desire to live boldly and to live the life of our dreams it is a necessary journey we all must take to give birth to our authentic selves. Here are a few practices you can adopt in order to take full responsibility:
1. Accept that there is only one person responsible for the quality of the life you live. That person is YOU. If you want to be the success you desire, you have to take 100% responsibility for everything that you experience in your life.
2. You have to give up all your excuses – "Ninety nine percent of all failures come from people who have a habit of making excuses" – George Washington Carver
3. Give up all your victim stories – all the reasons why you can't and why you haven't up until now been as successful as you want to be – and all your blaming of outside circumstances.
4. For whatever reason – ignorance, lack of awareness, fear, needing to be right, the need to feel safe – we choose not to exercise that power. We are 100% responsible for everything that does or does not happen to us.
5. If you don't like your outcomes, change your responses.
6. Ponder – everything you experience today is the result of choices you have made in the past. This is acceptance gives you a clear map to create a bright feature.
7. We have to give up blaming, complaining and justifying.
8. We either create or allow everything that happens to us. We always receive yellow alerts. Become aware of your alerts!
9. Pay attention…our results don't lie. Ask – "What's showing up in my life"
10. Practice taking 100% responsibility for your life. Daily – moment by moment.
To Listen To Audio Affirmations Click H.I.P. Inspirations
Until Next Time..Check Out Our H.I.P. Living Now Newsletter & Remember
"Give Yourself Permission To Being Your Best Self™" & Join Our Communities on Facebook & Twitter
 For More Info Email Us At info@hipcoaches.com