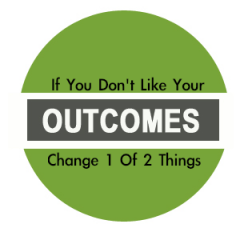 We have been conditioned to blame something outside of ourselves
For the parts of our lives we don't like. We blame our parents, our bosses, our friends, the media, our coworkers, our lack of money, our spouse, the weather, the economy, our astrological chart, God, anyone or anything we can pin the blame on. We never want to look at where the real problem is – OURSELVES
To achieve major success in life – to achieve those things that are most important to you – you must assume 100% responsibility for your life. Nothing less will do.
*If something doesn't turn our as planned some of the questions you can begin to ask yourself are:
How did I create that?

What was I thinking?

What were my beliefs ( assumptions, intentions)?

What did I do or not do to create that result?

How did I get the other person to act that way?

What do I need to do differently next time to get the result I want?
Lots of people overcome these so-called limiting factors so it can't be the limiting factors that limit you. It's not the external conditions and circumstances that stop you – it is YOU. We stop ourselves. We think limiting thoughts, engage in self-defeating behaviors. We defend our self – destructive habits (drinking, smoking etc) with indefensible logic.
*We ignore useful feedback (whether from others or the Universe):
Fail to continuously educate ourselves and learn new skills,

Waste time on the trivial aspects of our lives,

Engage in idle gossip,

Eat unhealthy food,

Fail to exercise,

Spend more money that we earn,

Fail to invest in our future,

Avoid unnecessary conflict,

Fail to tell the truth,

Don't ask for what we want and then WONDER WHY OUR LIVES DON'T WORK.
This is the way most people live. They place blame for everything that isn't the way they way it on outside events and circumstances. Basically they have an excuse for everything. Does this sound like you?
Let me share a formula with you E+R = O – Event + Response = Outcome and help you to understand this on another level. Every outcome you experience in life, whether it is success or failure, wealth or poverty, health or illness, intimacy or estrangement, joy or frustration, is the result of how you have responded to an earlier event or events in your life.
*If you don't like the outcomes you are currently getting there are two basic choices you can make:
1. You can blame the event ( E) for your lack of results ( O) : In other words you can blame the economy, the weather, the lack of money, you lack of education, racism, gender bias, the current administration in Washington, your wife, husband, your boss' attitude, the lack of support, the political climate, the system or lack of system.
2. You can change your responses ( R ) to the events ( E ) until you get the outcomes ( O ) you want: We can change our thinking, change our communications, change the pictures we hold in our head (images of yourself and the world) and you can change your behavior – the things you do. Don't get stuck in your conditioned responses or be a bundle of conditioned reflexes.
Everything you think, say and do need to become intentional and aligned
With your purpose, values and goals.
To Listen To Audio Affirmations Click H.I.P. Inspirations
Until Next Time..Check Out Our H.I.P. Living Now Newsletter & Remember
"Give Yourself Permission To Being Your Best Self™" & Join Our Communities on Facebook & Twitter
 For More Info Email Us At info@hipcoaches.com