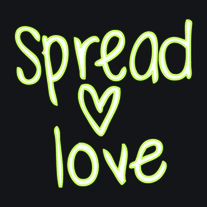 Spread Love Everywhere You Go. Let No One Ever Come To You Without Feeling Happier.                          ~Mother Teresa
Mother Teresa was one of the most loving beings to have graced our planet. Her words and her actions were living expressions of the divine energy of love. She embodied love in every way and she definitely spread that love everywhere she went. She has been quoted as saying – 'let us always meet each other with a smile, for the smile is the beginning of love.'
Although Mother Teresa is no longer in a physical body her spirit remains a vivid example of pure love. She had set a powerful intention to meet every soul with a smile of love during her lifetime, her precious and potent loveliness is still affecting us as it vibrantly radiates from the non-physical realm. Mother Teresa is a role model for me to be the most loving person I can be and I am totally and profoundly dedicated to living my life in alignment with love.
How Fabulous it is to wake up everyday and commit our hearts and minds to the practice of spreading love in our world. How awesome it is to see the way our choice to spread love helps others around us to experience their own inner joy and love and live a life of excellence.
How Simple it is to put a smile on our face and greet our fellow earthlings with compassion and respect. Springtime is here and a sense of aliveness is percolating throughout nature and inside each of our souls. What better time is there than NOW to spread love everywhere we go and in everything we do and say.
Affirm: I Consciously Commit To Greet Everyone With A Smile & Spread Love Everywhere I Go.
To Listen To Audio Affirmations Click H.I.P. Inspirations
Until Next Time..Check Out Our H.I.P. Living Now Newsletter & Remember
"Give Yourself Permission To Being Your Best Self™" & Join Our Communities on Facebook & Twitter
 For More Info Email Us At info@hipcoaches.com
(Any content REPRODUCTION from this blog the author MUST be credited.)