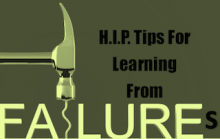 We have put together some useful tips to support you in living a H.I.P. life and relationship even through failures. If there are any you would like to share with the community please leave a comment below.
1. Just because something didn't turn out well, doesn't mean you made a bad choice. There may have been a lot to learn vice verse on what went wrong.
2. Start to pay attention to your thoughts. If you realize that they are negative change them by thinking anything neutral in their place.
3. Realize that your expectations about an upcoming event, situation or person has so much to do with outcome. Become aware of what your expectation are.
4. When you make a mistake, be willing to laugh at yourself rather than have it be a downer to your self-confidence. No one is perfect, strive for excellence.
5. When things don't go as you planned do not give up on the whole project. Take a little pause to get some objectivity and then go back to it. Doing so is what separates out those who succeed from those who fail.
6. If you have given something a true attempt and no matter what it's not working, be willing to let it go. It would be foolish to continue to stay with something that is not going anywhere.
No doubt when you get into conflicts with your mate, you're likely to feel lousy, empty, disconnected or a whole bunch of other negative feelings. However, this is certainly one situation you can learn from the experience. In fact couples can become much closer as a result of having a conflict… if they know the skills and practices to manage their conflicts as well as how to repair from them.
Use your tips and visit our website  for more insights on having H.I.P. relationships. You can also contact us for H.I.P. relationship coaching.
To Listen To Audio Affirmations Click H.I.P. Inspirations
Until Next Time..Check Out Our H.I.P. Living Now Newsletter & Remember
"Give Yourself Permission To Being Your Best Self™" & Join Our Communities on Facebook & Twitter
 For More Info Email Us At info@hipcoaches.com
(Any content REPRODUCTION from this blog the author MUST be credited.)