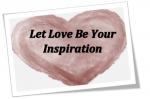 "Love doesn't make the world go round; love is what makes the ride worthwhile." ~ Franklin P. Jones
Today's society is plagued by the idea that we are different from one another, based upon beliefs that we are separate from each other. Because of this, we see disagreements and wars manifest around the world. Rather than being disappointed by the destruction and hate we witness, we must allow the seeming adversity of life to inspire us to commit to practicing and being love. We are called forth by the pent of our society to take a stand for love, to be excellence in loving.
When we bear witness to conflict in the world, we ask ourselves what can we do to circumvent such destruction. The answer is easy. We must rise up and take a stand for love. This seeming challenge propels us to be motivated and inspired to bring forth a deeper, unconditional love for the planet. Do not be burdened by the constraints of the world, rather look at the shortcomings of conflict as a catalyst to evoke a change within us. No longer are we victims of a world seemingly run by fear, doubt, worry and mediocrity. We have an opportunity to be truly inspired to anchor love through our spiritual practice. This allows us to be unshaken in our endeavor to love.
When we watch the news or read the newspaper, where content is usually consumed with negativity, we see this as an opportunity to grow in our capacity to love. We are inspired by the confines of the world to live loving lives of excellence, by living limitlessly in the presence of God's love. We go deeper within to be unmovable in our desire to transform and inspire the world with our love. We will not have to profess our love, rather we radiate an inspirational love from within.
Affirm: Nothing in the world brings me down, seeming adversity inspires me to express more of my excellence and to love. I uplift my life and the world because I am inspired to live a life that is overflowing with love and excellence.
To Listen To Audio Affirmations Click H.I.P. Inspirations
Until Next Time..Check Out Our H.I.P. Living Now Newsletter & Remember
"Give Yourself Permission To Being Your Best Self™" & Join Our Communities on Facebook & Twitter
 For More Info Email Us At info@hipcoaches.com .
(Any content REPRODUCTION from this blog the author MUST be credited.)