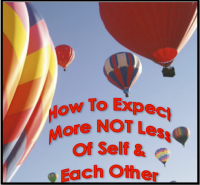 Below are some tips that will support you in breaking through the limited expectations surrounding you and rising to new heights and demonstrations  in your life:
1. Be true to who you are. Stop trying to please other people or be someone else. It's better to be an original version of yourself than an exact duplicate of someone else.
2. Discover your big why (purpose) for living. One that will drive you to live your life to the fullest.
3. Live in alignment with your why (purpose): What can you start doing immediately that will let you live 100% in alignment with your why? How can you live true to your purpose within every context, situation, environment you are in, every second of the day ( in season and out, good times and hard)
4. Be committed to your growth. Grow into your why even through the growing pains. What you use to be satisfied with and what you are no longer satisfied with. Grow into your vision/why/purpose. How do you know you're growing? You experience growing pain.
5. Quit complaining: Don't be like the howling dog, always howling and never doing anything. Stop complaining about your problems and work on them instead, focusing on positive outcomes and results that you desire.
6. Rather than think what if, think next time: Don't think about things you can't change (namely what has happened and thoughts of other people) or unhappy things because these are disempowering and distracting you from fulfilling your promise. Instead, focus on the things you can act upon. That's the most constructive thing you can do in any situation.
7. Live every day on a fresh new start. Don't be held back by what happened yesterday, the day before, the week before, the year and so on.
 To Listen To Audio Affirmations Click H.I.P. Inspirations
Until Next Time..Check Out Our H.I.P. Living Now Newsletter & Remember
"Give Yourself Permission To Being Your Best Self™" & Join Our Communities on Facebook & Twitter
 For More Info Email Us At info@hipcoaches.com .
(Any content REPRODUCTION from this blog the author MUST be credited.)