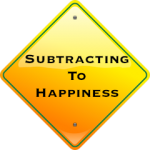 Many people have been taught that the way to happiness is by adding.
They spend a great deal of time and energy in trying to add all they want to their lives, thinking that the more they add, the happier they'll be. Today I want you to take a different approach, instead of adding, BE and SUBTRACT.
Let Being and Subtraction lead you to happiness. Learn to operate from and live from the Law of your Being. Know that what we experience in life is the result of what we are being, how we are showing up in each encounter! We can experience no more or no less than what the Law of Being will allow and the Law of Being only desires to express 100% good. It is in ignorance and misunderstanding that we shift out of full authentic expression – what we are Being correspond to what we experience in life.
So much of our frustrations and unhappiness in life is the result of us resisting what is showing up in our life, thinking it should be something us, and then trying to make changes, without first changing who we are being. Subtract fear, worry and judgment from your life. Know your signature strengths and use these strengths everyday in the main realms of your life to bring abundant gratification and authentic happiness.
Ask yourself often today, who do I have to be in order to experience the life of my dreams? What would you have to let go of in this moment to be happy?
To Listen To Audio Affirmations Click H.I.P. Inspirations
Until Next Time..Check Out Our H.I.P. Living Now Newsletter & Remember
"Give Yourself Permission To Being Your Best Self™" & Join Our Communities on Facebook & Twitter
 For More Info Email Us At info@hipcoaches.com.
(Any content REPRODUCTION from this blog the author MUST be credited.)