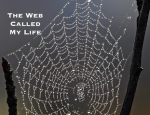 So many times we look outside of ourselves
To find the perfect design of life but truly I am coming to believe more and more that my perfect design is all within me. The perfect design that I lust and hunger after is woven so delicately in all moments that if one should blink they would miss it. All of life moves with such synchronicity! At least that's what I believe.
If we could just pause long enough to take in the moment, perhaps we would see the magnificence from which we were created. I have been spending a little more time just taking in everything around me. My encounters, my conversations, my work and my play. The books I read, the audio I listen to and the company I hang around with. I have been looking with what my partner would call – staying in beginners mind and yes it does carry a sense of fascination about life.
I find myself looking at the events of my life growing up and how what I thought were coincidences and insignificant were in fact pivotal stages. I have been pondering on strangers I met along the way that is engraved in my mind. This web called my life unfolds with the twist and turns that has made up ME. The twist and turns that sometimes left me on the floor turned out to be the best gifts I ever and continue to receive. As one thing I have learnt is "the gift keeps giving." I am still learning from the experiences of years gone by as I dig into them more. After all – they are mine to search out.
There is one particular event that simply will not leave my mind. The day my biological father never showed up at the airport. As my mother told it – he was supposed to take me for a period of time and they were suppose to meet at the airport. Needless to say he never showed up and she never heard from him again. I can only share that I don't know what my life would have been with my father but what I can share is how divine the road taken turned out.
I never met him until I was 19 years old and when I did speak to him that day it was as though all questions were answered in my soul. Absolutely no way could I have journeyed with my father.  It's just not conceivable and I am grateful. I love my father for having not showed up that day. I love my father for the choice he made ( although in the natural eyes one would be upset). I love the perfect design of my experience as the "fatherless child" because for me it worked perfectly! For me the gifts of strength, courage, tenacity, I can do it spirit, independent were qualities I got to exercise.
You see there is a design to your experience, even if you're not able to see it now. There is that unseen reason that eventually reveals itself but only if you ask. There is a gift underneath it all! It might take some processing, which I encourage you to do, because your next level, your next step depends on if you clean up your emotions.
Start by searching out the design as you go along your day. What came together in that NOW moment that you find yourself standing in? What in heaven's name is the Universe teaching you about you?
Take one experience at a time when processing, as this will help you not to be overwhelmed.
 To Listen To Audio Affirmations Click H.I.P. Inspirations
Until Next Time..Check Out Our H.I.P. Living Now Newsletter & Remember
"Give Yourself Permission To Being Your Best Self™" & Join Our Communities on Facebook & Twitter
 For More Info Email Us At info@hipcoaches.com.
(Any content REPRODUCTION from this blog the author MUST be credited.)