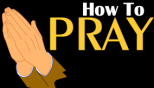 The purpose of prayer is to come into conscious awareness of the Presence of God NOW – Communion or Common-Union-Oneness
Prayer allows is to synchronize our awareness with the Mind of God and enter into a state of consciousness called Heaven. Heaven NOW.. I know this might sound radical to some people but really why should we wait for a state of Heaven (happiness, peace, joy, abundance etc) in the afterlife. What then would be the purpose of a present time incarnation?
Prayer is more than supplication. It is an affirmation of Truth that eternally exist, can never die, and yet has not come into consciousness. "It" comes into consciousness/ awareness not by supplication but through affirmation or positive reinforcement of the Truth. Do not supplicate or beg the Universe to give you what you need. However, practice to get still and ponder about the inexhaustible resources of Infinite Mind, in the NOW.
It is necessary to pray believing that we have received. This means to conjure up the feeling tone of having already received your desire and sit in that vibration (shhhh, this too is the secret of manifestation)
Right now dismiss the notion of time. Well at least try as a daily practice until it becomes a habit for you. Know and affirm that while your experiences may seem linear, this moment is all there is and it (your experiences) increases or lengthens by your attention to it. Begin to center yourself and allow your inner wisdom to expand your experience of time. Be aware and awake, do not worry or wonder about one minute to the next. Simply allow the Divine example of patience and harmony to flow into your life.
Use the tools of denials to release the thoughts and beliefs that separate you from your understanding of Spirit and use the tools of affirmation to deeply connect you to the present moment. In this way the concept of time slowly dissolves and life takes form. Begin to consciously move from a space of gratitude. As this attitude will allow you to accept the fulfillment of your prayer.
To Listen To Audio Affirmations Click H.I.P. Inspirations
Until Next Time..Check Out Our H.I.P. Living Now Newsletter & Remember
"Give Yourself Permission To Being Your Best Self™" & Join Our Communities on Facebook & Twitter
 For More Info Email Us At info@hipcoaches.com.
(Any content REPRODUCTION from this blog the author MUST be credited.)