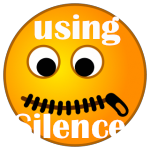 I had someone ask me why
God never seemed to answer his prayer – I replied – "it's not that God never answers your prayer, it's that you never become still and silent long enough to hear God." Silence is the key to being able to hear the voice of God. Silence is not just the cessation of noise in the outer,it is a state of being. Entering into a state of silence is tapping into a realm of consciousness for the purpose of putting us in touch with Divine Mind so that the soul may listen to the still small voice. We all want to hear this voice as it ultimately guides our path to greater living.When one goes into the silence, one enters the secret place – the closet of prayer within. It is in this state that we pray / communion and meditate on the Truth of our Being. Open your inner ear to listen deeply to the instructions from your higher self. This voice,the voice of God is the ultimate authority of your life.
The basis of the mystical tradition is meditation. It is a means of lifting the soul toward the Divine. Through meditation the mind is detached from outer sensations so that we may concentrate on the ideals of the Divine. In this state we are opened to receive revelations. These might take the form of visions of the future, knowledge of distant events, understanding of something you're studying, scriptures and discernment of others to name a few forms.
Meditation is a means by which we obtain / demonstration the Spiritual life of absolute good. So, today be silent and still long enough to hear something deep within your soul. Just for today, don't try to figure it all out. Just be quiet and still and let your mind be open and receptive to fresh instructions.
Join us every Tuesday for our H.I.P. noonday meditation. Register here .
  To Listen To Audio Affirmations Click H.I.P. Inspirations
Until Next Time..Check Out Our H.I.P. Living Now Newsletter & Remember
"Give Yourself Permission To Being Your Best Self™" & Join Our Communities on Facebook & Twitter
 For More Info Email Us At info@hipcoaches.com.
(Any content REPRODUCTION from this blog the author MUST be credited.)