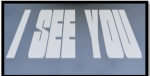 Healthy, Inspiring, Purposeful people practice seeing other's light by greeting them with "I see you". Be H.I.P. practice silently greeting others with "I see you". I see your light of greatness & excellence. ~ Coach T
Every day we spend hours projecting unto others our light qualities and our dark qualities. This means the qualities that we cannot accept as being a part of us but we perceive them out into the world. Into our family, friends and love ones, all of whom are playing their part in being mirror reflections for us.
The game goes like this – that person is mean, that person is angry, that person is undeserving. Perhaps that person is great, awesome, beautiful and charismatic. The qualities that we perceive as dark we push those away (daily feuds) and the ones that are light we are enthralled with. Humans spend hours per day watching OWN network because of the greatness they admire in Oprah (and yes there are those that perceive her differently). So many friends and acquaintances who comments "I will be on Oprah soon" – this is because they thing Oprah has something that they don't have. She holds the ticket to their abundance and celebrity status.
When we awakened to the Truth of who we really, that there is no separation. That contained within each of us are the dark and light qualities. But in the moments of expressing the anger and the selfishness etc are the moments we forget who we are. In the moments when we stand in the greatness of expressing our highest self and making higher choices we remember who we are. This flip flop happens on the earth plain constantly and only you can make the choice to practice how to live your life.
The H.I.P. movement (a growing community of like-minded individuals dedicated to becoming their best self and giving others permission to do the same) offers the environment to support everyone in utilizing their power of choice. We provide tools and resources for individuals who are willing and open to ask.
When you understand that the moments of flip flop happens and you understand that people are your mirrors you will know beyond a doubt that practicing to see rightly is a skill set that a H.I.P. individual must practice. Silently affirming and acknowledging one's greatest in every encounter will begin to work on you internally. You will begin to attract more of the greatness towards you as your look into your mirror (other people) and see yourself. You will watch Oprah and all the other great individuals and you will begin to see yourself.
Join us Charles & Shakira every Tuesday at 3pm EST live on Blog Talk Radio
Pick up your copy of  Charles' book The H.I.P. Factor here
For our H.I.P. noonday meditation. Register here .
  To Listen To Audio Affirmations Click H.I.P. Inspirations
Until Next Time..Check Out Our H.I.P. Living Now Newsletter & Remember
"Give Yourself Permission To Being Your Best Self™" & Join Our Communities on Facebook & Twitter
 For More Info Email Us At info@hipcoaches.com.
(Any content REPRODUCTION from this blog the author MUST be credited.)