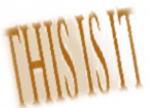 "Purposeful people know that the time will never be just right. Be H.I.P. Don't wait for the right time. NOW is the right and the only time." ~ Coach T
Confession time, here I am preparing to blog this wonderful message to you all and my eyes caught hold of the calendar and a moment of panic / realization kicks in. Yikes! the year is almost ending and there is a slew of items that has to be prepared. Whoa, what have I or we accomplished all year.
Breathe….  and I am back to this moment, the only moment. How many times have you been jolted by the concept of time and the list of to do? We have all been zapped into this concept that 24 hours is no longer enough. Technology and the fast demand of our attention really doesn't support our energies either. Everything appears to be moving constantly. Sometimes I even get caught in the guilty measure of spending times with friends, whether in person or on the phone, and yet my attention is split to cooking or computer.
Use your breath – just like I did above and come back. It is imperative to the healthy evolution of  our soul, mind and body that you practice to pull away from the crowd. Whatever the crowd maybe for your life. It is vital that your time be construed to what is purposeful so that you can chart your life in the direction you desire to go. It takes mindfulness and dedication to the task that is before you. Although we love or appreciate the things we are a part of I am getting to this place of "purposeful interactions" that I would like to share with you.
Sitting and waiting for the time to be right to partake in our lives is illusive, waste of mind activity. This is it. The time will never get right, things will always come up or be happening. There is no moment that we can get back or no right time that we can capture for NOW is the only time. We ought to simply allow ourselves to move from now to now. Taking this premise as foundational will allow you the opportunity to train your mind to enter NOW. Not the past or the future but NOW. Turn your awareness to the present and simply allow the experience of the moment to occur in the spiritual and physical realms now.
Purposeful people get this. They understand at the core that in this now moment are the gems that support the next moment and the next. They understand that their purpose unfolds only now, as they give of themselves and be an open channel to whatever the now experience calls them to be. Practicing purposeful interactions is a tool utilized by the H.I.P. individual and I invite you to commit to this practice. Start with a day, then a week and then a moment. Let your interactions have your full attention and you will begin to see immediate improvements in how your spending your time and the quality of your relationships will drastically improve also.
Join us Charles & Shakira every Tuesday at 3pm EST live on Blog Talk Radio
Pick up your copy of  Charles' book The H.I.P. Factor here
For our H.I.P. noonday meditation. Register here .
  To Listen To Audio Affirmations Click H.I.P. Inspirations
Until Next Time..Check Out Our H.I.P. Living Now Newsletter & Remember
"Give Yourself Permission To Being Your Best Self™" & Join Our Communities on Facebook & Twitter
 For More Info Email Us At info@hipcoaches.com.
(Any content REPRODUCTION from this blog the author MUST be credited.)