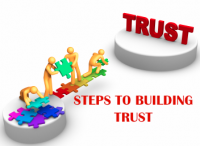 "H.I.P. people know that trust is relationship and relationship is trust. No relationship, no trust. Trust is the glue that holds relationships together and allow it to evolve. Be H.I.P. Cultivate trust in your relationships." ~ Coach T
Trust is the essential precondition upon which all successful relationships depends, upon which all real success in life depends. Without it nothing can be built or maintained. Yet, increasingly we find ourselves in a world where our methods to address distrust are insufficient.
As with most subject matters of the heart there are levels and levels upon which trust can be addressed. I am going to share two that may appear simple but are powerful if practiced consistently. They are in no particular order.
First, be predictable: Although surprises are nice from time to time, stability and uniformity will strengthen and are far more important in a relationship in the long run. Predictability builds trust. By being predictable you can than practice reliability. Trust is just another way of saying you can rely on someone or me. You trust your partner to do certain things no matter what, at all times. This trust builds security in a relationship.
A big one for many ,  "mean what you say" – When your partner know they can trust whatever comes out of your mouth, without hesitation, then you are building a bond that can be unshakable. Your partner can read your face better than anyone else. If you are lying or trying to hide some true feeling by not quite saying all that is on your mind, they will be able to tell. They might even think you are cheating which can tear down the trust in your relationship. Be upfront with each other. Practice these tips and watch your relationships grow and expand.
Join us Charles & Shakira every Tuesday at 3pm EST live on Blog Talk Radio
Pick up your copy of  Charles' book The H.I.P. Factor here
For our H.I.P. noonday meditation. Register here .
  To Listen To Audio Affirmations Click H.I.P. Inspirations
Until Next Time..Check Out Our H.I.P. Living Now Newsletter & Remember
"Give Yourself Permission To Being Your Best Self™" & Join Our Communities on Facebook & Twitter
 For More Info Email Us At info@hipcoaches.com.
(Any content REPRODUCTION from this blog the author MUST be credited.)