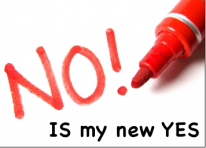 "Healthy, Inspiring, Purposeful people let their life be a mission, not an intermission, they know that they are here for a purpose and on purpose. Be H.I.P. Trust and discover your mission, then say yes to it and no to everything else." ~ Coach T
I recently heard this song by Karen Drucker: I've spent my life with a disease to please, I say yes, when I really meant to. But now I've seen the light and I feel the time has come for me to say, there is something I need to know: "No is my new yes.
When I say no I'm saying yes to me. When I say no, I set myself free. I've been living my life, living to please, full of effort and struggle and not enough ease. I've been a such a good boy, but now I know when I'm untrue to me, I lose a piece of my soul. No is my new yes. I thought to be nice. I had to be nice doing what others wanted, but I am paying the price.
What good is my giving – how authentic? How true? When I cheat me just to please you. No is my new yes. When I say no to you, I'm saying yes to me. It's all about freedom, it's all about choices. Trusting my heart to know what is best for me."
Does this song resonate with you? It does with me. Recently, I've been offered a position at my job where I have been employed for 25 years. While it's a great opportunity for me to grow, I respectfully declined it. From this point forward – No is my new yes. I am saying yes to the mission, the mandate of my soul's calling.
I will no longer fill my life with intermissions of trying to please others to the detriment of the dreams and visions of my soul. As I shared a message a few weeks ago – I will live from my soul not my role. Too often we allow ourselves to get caught up in the roles that others want us to play, while we neglect our souls. We end up sick, frustrated,joyless and broke. All because we were being a good boy or a good girl, doing what we were "suppose" to do.
Someone once said that the worst prison you can be in is the prison of other people's opinions. Do yourself a favor, let your life be a mission not an intermission. Be H.I.P. Set yourself free by saying yes to your mission and no to everything else. Make no your new yes. Namaste
Join us Charles & Shakira every Tuesday at 3pm EST live on Blog Talk Radio
Pick up your copy of  Charles' book The H.I.P. Factor here
For our H.I.P. noonday meditation. Register here .
  To Listen To Audio Affirmations Click H.I.P. Inspirations
Until Next Time..Check Out Our H.I.P. Living Now Newsletter & Remember
"Give Yourself Permission To Being Your Best Self™" & Join Our Communities on Facebook & Twitter
 For More Info Email Us At info@hipcoaches.com.
(Any content REPRODUCTION from this blog the author MUST be credited.)