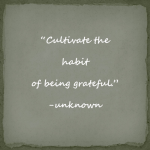 "Purposeful people practice gratitude. Gratitude is the key to giving & receiving abundance. Be H.I.P. Choose to evolve & be grateful." ~ Coach T
There are some morning when gratitude is not on your mind. Whether it stems from the happenings of the night before, perhaps the dream landscape or even just the way in which you wake up. It's simply just not there as your first thought. This is the moment when you automatically move into habit. One such habit for me is – reach for my glass or bottle  of water that I placed on the nightstand before going to bed, opening the cap, taking a drink and quietly saying "Thank You Spirit".
There are no other words at this point. Just a thank you as recognition that my eyes opened up this morning. I begin to feel the sensation of my body and become aware of the movements (perhaps ask what day it is – to myself of course). This particular morning I am feeling a sensation of hopelessness, a tinge of desperation, a rush of I must figure things out. Ego rears its head with an onslaught of questions that is saying "lay in bed a little longer than usual – you know you don't feel like doing anything today."
You might be asking what does one do when this occur and the answer is you feel it and you face it. Ignoring our feels and sensations is termed as spiritual bypassing in some circles. These emotions are showing us where our beliefs are. They are showing us how far we have come in the process of transformation and whether or not we are utilizing the tools that we have filled up our toolbox with. Never ignore them.
Purposeful people practice gratitude no matter what. They find something to be grateful for in ever moment (especially in the moments of despair). You might not be able to feel it running through your mind and body but you practice it until you do. In my moment on this particular morning I began chanting words of affirmation. I could hear the streets of mind trying to decide what to believe, what direction to turn but I stood my ground and kept at it. It was ego or higher self, whom do I choose to serve.
In about 2 hours of affirming and waiting for that shift I received a call from a friend I have not heard from in over a year. He was asking me to help his sister who needed support. Between tears and laughter I recognized the gifts of Spirit offering me an opportunity to give beyond myself, beyond my woe its me thoughts. This was my reminder as a practicing H.I.P. individual that I must choose to evolve. I must consciously choose to be grateful in-spite of  (and believe me life happens) for this is the posture that activates the law of giving and receiving abundance in life.
Through the in the moment practice of H.I.P. Living we can choose higher thoughts. We can stand ground to whatever it is that is trying to dictate what our day or life should look like. Open your tool box daily and begin at once to practice gratitude.
Join us Charles & Shakira every Tuesday at 3pm EST live on Blog Talk Radio
Pick up your copy of  Charles' book The H.I.P. Factor here
For our H.I.P. noonday meditation. Register here .
  To Listen To Audio Affirmations Click H.I.P. Inspirations
Until Next Time..Check Out Our H.I.P. Living Now Newsletter & Remember
"Give Yourself Permission To Being Your Best Self™" & Join Our Communities on Facebook & Twitter
 For More Info Email Us At info@hipcoaches.com.
(Any content REPRODUCTION from this blog the author MUST be credited.)