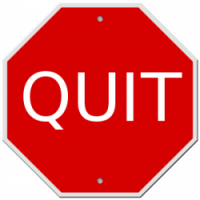 "H.I.P. people have release control of being the general manager of the universe. They trust that there's a divine plan unfolding for the best for everyone. Be H.I.P. Trust that the universe has got your back." ~ Coach T
We are not responsible for everyone in this world. In fact a lot of times we even have no control over our own lives. I believe that there is something much greater ruling this world, something that cannot be described in words and cannot be fully understood. Some call it God, the universe, life.
We do not have to take on everything that is going on in the world as our responsibility to fix. Things happen to us and to those that we love and care about, but still we do not have to make it our business to attempt to fix everything that happens. Some things we cannot fix, we are simply going to experience them – both good and bad. Taking it upon ourselves to carry all of the weight for everyone we care about is not healthy. We cannot carry the burdens of other people and we cannot fix them either.
Each person is here to have their own experience and they must go through certain things in order to grow and develop into their authentic excellence. If we assist the butterfly to free itself from its hibernating slumber it will die because the struggle is what causes the blood to push through its wings so that it can fly. In rescuing those we love we enable them to continue in their dysfunction and issues. We give them a reason to not have to work through their own problems and pain as we place undue burden and stress upon ourselves to carry their own weight.
Spirit does not need a general of the Universe. It can handle all that is necessary to be handled for each and every person without your assistance. You have enough issues to take care of evolving through for yourself and just as you must go within to solve your own problems, they must exercise the same discipline to get still and go within for their can help as well.
Helping a love one with an immediate need is not the same thing as carrying the weight and responsibility to fix their lives. You can help with one problem temporarily, however by not allowing them to help themselves, you will be burdened with the responsibility of fixing all their problems. Giving a fish is vastly different from teaching one how to fish. If you teach them how to fish they can take care of all their needs on their own for a life time.
Stop being the general manager of the Universe.
Join us Charles & Shakira every Tuesday at 3pm EST live on Blog Talk Radio
Pick up your copy of  Charles' book The H.I.P. Factor here
For our H.I.P. noonday meditation. Register here .
  To Listen To Audio Affirmations Click H.I.P. Inspirations
Until Next Time..Check Out Our H.I.P. Living Now Newsletter & Remember
"Give Yourself Permission To Being Your Best Self™" & Join Our Communities on Facebook & Twitter
 For More Info Email Us At info@hipcoaches.com.
(Any content REPRODUCTION from this blog the author MUST be credited.)