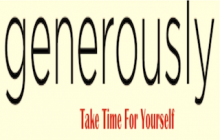 It is truly amazing to step back and look at how busy our lives have become.
Sometimes the more I try to clear the plate so to speak is the more things get added on – it like magic (smiling). There is that constant need to be engaged and entertained to keep the caffeine pot brewing for fear that sleep will cause you to miss out on something.
As you probably notice the successful companies of our time are those that are technologically advance. They are getting the attention of consumers in "real-time". Apps for smart phones are coming on the scene at a rapid pace, all the appliances in our homes are being synced. People are generally becoming more and more anxious about being on the cutting edge and not being left behind.
The truth is as we become more consumed with consistently being on the go there is a price to pay. A big price! Whether it be relationships, families or social life, the life structures are crumbling at the weight. The ultimate price is YOU. Without adequate rest, food, water and "me" time the body with begin to breakdown and fail you. Diseases appear over time. It is during downtime that the body naturally heals and rejuvenate. It is during the moments of pause and mindfulness that choices and decisions are made at the highest level for your life. Meditation and present moment living are proving to add years on to your life.
H.I.P. people understand that taking time for themselves is important. They have accepted the truth regarding their sacred self and know that it is only in spending time with themselves that they get to know who and what they are. It is in unplugging from the outer that you can rejuvenate and be filled up from within. H.I.P. people tune out to tune in. They live from the inside out and they achieve this by defining their own self-worth. You deserve time – schedule a sacred date with yourself today and let it become a staple in your calendar as you go throughout the rest of your days on earth.
Join us Charles & Shakira every Tuesday at 3pm EST live on Blog Talk Radio
Pick up your copy of  Charles' book The H.I.P. Factor here
For our H.I.P. noonday meditation. Register here .
  To Listen To Audio Affirmations Click H.I.P. Inspirations
Until Next Time..Check Out Our H.I.P. Living Now Newsletter & Remember
"Give Yourself Permission To Being Your Best Self™" & Join Our Communities on Facebook & Twitter
 For More Info Email Us At info@hipcoaches.com.
(Any content REPRODUCTION from this blog the author MUST be credited.)