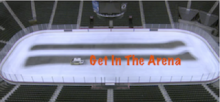 Criticizing is easy. Doing something constructive takes courage.
I was watching Super Soul Sunday recently and heard Dr. Brene Brown talk about the concept of being in the ring ( the arena). She explained the courage and tenacity it takes to stand up and have a voice with a face – simply to stand in the ring. Without this she exclaimed "you don't get a say".
Here was another ah ah moment for me. Not only do I need to step up my game by getting in the arena for my life but I can also practice to not criticize other people's arena. Those around you should be free to design and make their own life – to live out their dharma.
Being constructive doesn't just happen in our actions but also in our thoughts. Constructive thoughts lead to constructive creation and designing in your life. It leads to healthy habits and healthy relationships around you. H.I.P. people practice being constructive in their actions, reactions, thoughts and deeds. They do not engage in gossiping and chatter that leads to no where. They participate in encouraging others to new heights in their lives. Maya Angelo said that "courage is the most important virtue because without courage no other virtue can be practice consistently." Whether is be love, trust, faith, self-controlled, gratefulness – let courage be your foundation.
I must agree with Maya Angelo. It takes courage to take a stand on the opposite side of unhealthy habits. It is easier to get got up in what the mass is partaking in than to be set a part of principles. It takes courage to do something constructive and as Coach T puts it "H.I.P. people practice generosity my being constructive. Be H.I.P. practice being constructive. Criticizing is easy. Doing something constructive takes courage."
Live a H.I.P. life and help to create a world that works for all!
Join us Charles & Shakira every Tuesday at 3pm EST live on Blog Talk Radio
Pick up your copy of  Charles' book The H.I.P. Factor here
For our H.I.P. noonday meditation. Register here .
  To Listen To Audio Affirmations Click H.I.P. Inspirations
Until Next Time..Check Out Our H.I.P. Living Now Newsletter & Remember
"Give Yourself Permission To Being Your Best Self™" & Join Our Communities on Facebook & Twitter
 For More Info Email Us At info@hipcoaches.com.
(Any content REPRODUCTION from this blog the author MUST be credited.)