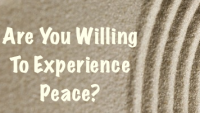 Listening to the still small voice within is an art form.
It requires us to sit still not just in body but also in mind. How does that work you might ask, when the mind is never still or quiet – practice have moments of pause is the clue. Glimpse or moments of clarity can support you in the practice.
One of the principles we expose at Charles & Shakira Unlimited is that your life is always an outward picture of what is happening on the inside. Is it possible to look out and get a clue on were you are heading? Absolutely!! Are you experiencing peace and order? Or does  your life look like confusion and chaos?
In order to experience peace, love, or any other healthy quality it is important to accept your circumstances as they are. I speak not of condoning or giving up or  resigning but to look at what is as it really is. In looking at something for what it is you will open up to possibilities that you once couldn't see. In the midst of the storm the light of peace with burst forth even if the opportunity is not clearly known in the moment. The opportunity comes forth from your willingness to experience peace. This is truly a "willingness" as your surrender and open up yourselves. Some people are so accustom to confusion and chaos that they are not willing and ultimately does not experience peace.
The opportunity for peace to be birth does not come from knowing all the answers or the "how" things will play out. It is in trusting the process. In trusting that the Universe has your back. H.I.P. people understands this process. They practice acceptance and surrender and they release being the general manager of the Universe. They embrace the newness that comes forth from all experiences and recognize that in order to experience peace they must be it – they must allow it to be expressed through them, in them as them at all times.
H.I.P. people are generous in experiencing peace by embracing confusion. Be H.I.P. let there be peace in not knowing all the answers.
Join us Charles & Shakira every Tuesday at 3pm EST live on Blog Talk Radio
Pick up your copy of  Charles' book The H.I.P. Factor here
For our H.I.P. noonday meditation. Register here .
  To Listen To Audio Affirmations Click H.I.P. Inspirations
Until Next Time..Check Out Our H.I.P. Living Now Newsletter & Remember
"Give Yourself Permission To Being Your Best Self™" & Join Our Communities on Facebook & Twitter
 For More Info Email Us At info@hipcoaches.com.
(Any content REPRODUCTION from this blog the author MUST be credited.)