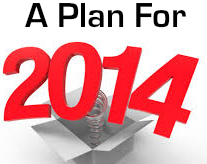 The way you live these first 30 days of 2014
Will profoundly shape the way the whole year will unfold. Wake up to your life today… Here are 10 of the finest strategies we know to make your highest ambitions come true…
1. In order to succeed have a vision, goals, plans, structure, tools and action.
2. Do a daily goal review: Every morning take 5 minutes to reread and then actually rewrite your top 5 goals for 2014.
3. Go complaint free: Go on a 90 day complaint free diet. You energize the problems you vocalize.
4. Clean all messes: Mess creates distractions and distraction reduces your power to achieve every goal you set.
5. Become an incrementalist: 5 little goals done a day lead to 1850 goals achieved by December 31, 2014.  Get serious about small wins.
6. Work in 90 days themes: The best period to set goals within is a 90 day chunk.
7. Imprint your December 31 statement: If every single thing you wanted to happen over the next 12 months happened, what would it all look like? Write it down and read it everyday.
8. Join a visionary or mastermind group: You can't do it alone. You need to partner with other people so as to get their encouragement. To feed off their energy.
9. Out learn last year's self: Out learn and out think who you were last year. Invest in your learning and self-education.
10. Don't give up.
We hope for you much success in 2014 and beyond. If this has been a blessing to you…
please share and pass it along.
Join us Charles & Shakira every Tuesday at 3pm EST live on Blog Talk Radio
Pick up your copy of  Charles' book The H.I.P. Factor here
For our H.I.P. noonday meditation. Register here .
  To Listen To Audio Affirmations Click H.I.P. Inspirations
Until Next Time..Check Out Our H.I.P. Living Now Newsletter & Remember
"Give Yourself Permission To Being Your Best Self™" & Join Our Communities on Facebook & Twitter
 For More Info Email Us At info@hipcoaches.com.
(Any content REPRODUCTION from this blog the author MUST be credited.)