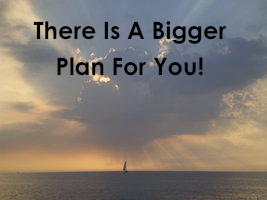 "H.I.P. people know that life have a bigger vision for them than they can imagine for themselves. Be H.I.P. Be available to life's larger vision for your life." ~ Coach T
A vision is a big picture. It is a propelling picture that pulls you not pushes you towards the preferable future. Companies and institutions over the years have worked earnestly towards capturing a vision that all employees can actively buy into. Successful ones have achieved this. President Obama also successfully used a 'vision' to captivate and inspire America into history (the first black President).
A vision is a powerful tool to catch a hold of and bring forth in your individual life. It is important to get into the desires and vibrations of your soul and allow that to be expressed through and as you. Your vision should inspire you into action each and every day. In fact the first time I heard this from Charles I had to step back for a minute – "your vision should scare you." Why? Because life has great plans for you, beyond your limited understanding and comprehension is a purpose and life that is unimaginable.. Just like scripture states… eyes has not seen, nor ears heard (1 Corinthians 2:9)
You just have to wake up to it. The truth is you don't have to find it by looking everywhere, just get still and get in alignment with your soul desires. If you can see the picture clearly rest assured it will be manifested and note clarity comes with getting still and spending time in the vibration of the image/picture. Making yourself available will feel scary sometimes, it will make your knees buckle beneath you but courageously moving forward in-spite of will manifest your vision.
It is a moment by moment process for NOW is the only time. H.I.P. people understands this concept and that is why they are immersed in a community that supports them and practices visioning. A community that issues to tickets – giving everyone permission to being their best self. H.I.P. people seek coaching support when necessary to get clear and be guided to go within to their internal world for answers.
During this new year we encourage you to unleash your greatness. To become available to a larger vision for your life that you have ever experienced before and trust that the Universe has your back in making this your reality.
Happy New Year, Happy New You!
Join us Charles & Shakira every Tuesday at 3pm EST live on Blog Talk Radio
Pick up your copy of  Charles' book The H.I.P. Factor here
For our H.I.P. noonday meditation. Register here .
  To Listen To Audio Affirmations Click H.I.P. Inspirations
Until Next Time..Check Out Our H.I.P. Living Now Newsletter & Remember
"Give Yourself Permission To Being Your Best Self™" & Join Our Communities on Facebook & Twitter
 For More Info Email Us At info@hipcoaches.com.
(Any content REPRODUCTION from this blog the author MUST be credited.)