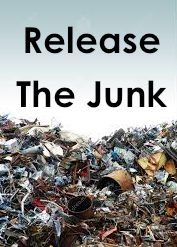 "You can't reach for anything new if your hands are still full of yesterday's junk." ~ Louise Smith
Now if your time to release and let go. Open the palm of your hands and allow the grip you hold to loosen. Now is the time for a new YOU to emerge. Yes, NOW! Your highest potential is seeking an outlet into expression and that outlet can only be found when you release the junk of yesterday.
The junk of yesterdays are the things that no longer serve you. This junk limits you to the past. It keeps you stuck and unmovable without the possibility of new experiences and opportunities. Some of the junk that we tend to hold on to is unforgiveness, unhealthy relationships, grudges, hurts and miscommunication. We get to wound up in the junk that our emotions and triggers are constantly on.
However, there is hope if you are willing to experience the new you in this New Year. By releasing one finger at a time you will begin to see a glimmer of light. Often time reaching for the whole seem impossible or overwhelming but a step by step process can get you to the top looking down. One will not be able to reach for anything while holding on to something else. This is physically and spiritually impossible. Something will have to give way or make room.
The cost of holding on to the junk is your new life, your infinite possibilities, your dreams and desires, harmony and peace of mind, the relationship you long to have and the abundance of Universe that is yours to have. Is this price not too high a price for you to pay?
Begin at once to take back your life, choose wisely in each moment the price you're willing to pay for the junk that consumes you. Declutter, Throw – Out and begin a NEW!
Join us Charles & Shakira every Tuesday at 3pm EST live on Blog Talk Radio
Pick up your copy of  Charles' book The H.I.P. Factor here
For our H.I.P. noonday meditation. Register here .
  To Listen To Audio Affirmations Click H.I.P. Inspirations
Until Next Time..Check Out Our H.I.P. Living Now Newsletter & Remember
"Give Yourself Permission To Being Your Best Self™" & Join Our Communities on Facebook & Twitter
 For More Info Email Us At info@hipcoaches.com.
(Any content REPRODUCTION from this blog the author MUST be credited.)