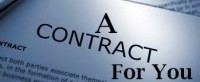 "Healthy, Inspiring, Purposeful people know that vision without action is a fantasy. Action without vision is chaos. Be H.I.P. Become aware of your vision and then move into action." ~ Coach T
ITS YOUR YEAR!! Remember that 2013 is now in the history books and whether it was a great or not so great year its now GONE! Enjoy what you learned in 2013 and let's make it a great year in 2014. Our advice is to write a CONTRACT to yourself.
Here's how you do it:
– Write down all the goals that you would like to achieve this year
– Add dates to each goal
– Prioritize each goal based on importance
– Monitor & Track each goal weekly, monthly & quarterly to make sure you're on track
– Same time next year simply review all accomplishments!You will be truly amazed at the progress and it gives you another perspective on how to approach life. You can literally write your life out on paper and the only thing standing in your way is YOU.
Remember this:
The road to success is not straight, there's a curve called failure
A loop called confusion, speed bumps called friends
And red light called enemies, caution signs called family
And flat tires called jacks, but if you have a spare called determination
And an engine called perseverance, with insurance called faith
And the drive to make it, you'll reach a place called success!
Recite this all year long as you face the things that makes most quit on their goals and be strong when they are weak. You will grow into a 3% type individual and we'll see you on the beaches of the world! For support continued support in making 2014 your best ever contact us. There are tonnes of freebies on our site but we also one – on – coaching slots to help you get there!
Join us Charles & Shakira every Tuesday at 3pm EST live on Blog Talk Radio
Pick up your copy of  Charles' book The H.I.P. Factor here
For our H.I.P. noonday meditation. Register here .
  To Listen To Audio Affirmations Click H.I.P. Inspirations
Until Next Time..Check Out Our H.I.P. Living Now Newsletter & Remember
"Give Yourself Permission To Being Your Best Self™" & Join Our Communities on Facebook & Twitter
 For More Info Email Us At info@hipcoaches.com.
(Any content REPRODUCTION from this blog the author MUST be credited.)