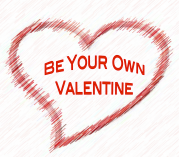 Yesterday we celebrated a day set aside where the awareness of love is heighten and those who have the form of love they desire are happy and those who don't have the form of love they desire are sadden. No matter what category you into, I suggest that if you truly want to know that love is, give your attention to the greatest love of all – Self love.
Learn to be your own valentine. "Healthy, Inspiring, Purposeful people know that loving oneself is the beginning of a lifelong romance. Be H.I.P. Learn to romance yourself more." Why? Well, H.I.P. individuals know that you can only give and receive love from and to others only to the degree that you give and receive love from and to yourself. So it behooves us to love ourselves enough so that we can in turn loves others enough. One of the ways to do this is by practicing extreme self-care. This involves:
Living and working in a soul – nurturing environment.
Developing a greater appreciation for and connection with nature.
Doing work that provides an opportunity to express your greatest gifts and talents.
Caring for your emotional, physical and spiritual health in a way that's aligned with who you are and what you most need.
Surrounding yourself with people who are smart, self-aware and only interested in two-way relationships.
Taking bold steps to do things like eliminate clutter from your life for good or getting your financial act together sot that you always have choice about how to live your life.
Only let others do good for you (flowers, dinner etc) what you do for yourself.
Today and everyday choose to be your own valentine and love yourself so much, that you can love others so much.
 Join us Charles & Shakira every Tuesday at 3pm EST live on Blog Talk Radio
Pick up your copy of  Charles' book The H.I.P. Factor here
For our H.I.P. noonday meditation. Register here .
  To Listen To Audio Affirmations Click H.I.P. Inspirations
Until Next Time..Check Out Our H.I.P. Living Now Newsletter & Remember
"Give Yourself Permission To Being Your Best Self™" & Join Our Communities on Facebook & Twitter
 For More Info Email Us At info@hipcoaches.com.
(Any content REPRODUCTION from this blog the author MUST be credited.)