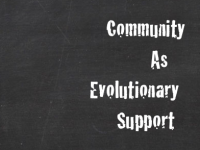 The question is……
Where and how do we begin to create an environment that cultivates evolutionary support and partnership?
Begin by asking yourself these important questions: –
1. Of everyone I know with whom can I really be my highest self?
2. Among my friends, family and colleagues, who truly shares my deepest values and highest spiritual aspirations?
3. Do I have any social structures in my life in which I feel free to stretch myself and my relationships beyond my comfort zones? To reach into new territory without being concerned that I'll rock the boat or scare others off in my efforts to awaken and evolve?
4. Is there anyone in my life who presents me with healthy challenges and encourages healthy risks, rather than being afraid to rock the boat with me? Someone I trust to stand up to me – with pure intentions and care for my own betterment and that of our shared higher ideals?
If a number of people come to mind, count yourself among the fortunate. Then arrange a meeting with your newly identified evolutionary partners to begin a conscious container for ongoing growth and shared inquiry. In that meeting, make your shared agreements and values explicit. As a starting point you can use the following:
We agree that the context for our relationship will be leaning into our evolutionary edges. Rather than meeting in our limitations and problems, fears and doubts, we take a stand for meeting in the expression of our highest potential. We accept the challenge of showing up and engaging from that place, stretching to manifest that potential now and explore it with each other. This can serve as a powerful foundation for deepening into a sacred radically uplifting partnership.
If your relationship inventory does not immediately reveal a care group of potential evolutionary partners, you may need to begin searching for a new group of kindred spirits with whom you resonate at the deepest level. You can do that in your local area and thanks to the ever expanding power of the internet, you can also now find community online. More and more opportunities are emerging all the time for us to find loosely knit spiritual community, as well as true kindred souls whose focus is deeply aligned with our own.
If you feel a resonance with the H.I.P. living principles that we share and want to receive a strong and immediate experience of the potential for evolutionary community I'm describing here, you are welcome to join us and be a part of what we offer.
Wherever Your Spiritual Journey Takes You, Remember, You're Not Alone.
You will never be. So, seek a robust collective context for your higher development. If you do, you may find your solitary spiritual journey being replaced by a rich and joyous relational spirituality in which profound trust and shared inspiration become the fuel for your own awakening and your greatest contributions to the world. – To our interdependence.
To Listen To Audio Affirmations Click H.I.P. Inspirations
Until Next Time..Check Out Our H.I.P. Living Now Newsletter & Remember
"Give Yourself Permission To Being Your Best Self™" & Join Our Communities on Facebook & Twitter
 For More Info Email Us At info@hipcoaches.com
(Any content REPRODUCTION from this blog the author MUST be credited.)