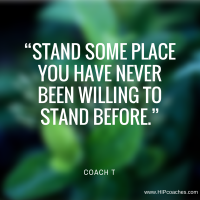 What the average call excellent, the excellent call average.
To leave your mark in the world you will have to stand some place you have never been willing to stand before. You must have the courage to aspire to excellence. You must be willing to break the spell of average.
To create an extraordinary life we will have to be present in each moment, giving 100 percent of ourselves. You will have to commit each day to being the best you can be and aspire to perform your daily tasks in the most conscious way possible. Living your best year requires that we take a moment each time we are about to make a move whether we are about to deliver a communication, make a decision or put something into our body and make sure that move reflects the very highest choice we can make.
Aspiring to excellence is a commitment that we must make each day we open our eyes. This commitment will lift us out of average and empower us to take extraordinary action. It will call on us to show up in our life as we never have before in order to not fall into the trap of average.
To Listen To Audio Affirmations Click H.I.P. Inspirations
Until Next Time..Check Out Our H.I.P. Living Now Newsletter & Remember
"Give Yourself Permission To Being Your Best Self™" & Join Our Communities on Facebook & Twitter
 For More Info Email Us At info@hipcoaches.com.
(Any content REPRODUCTION from this blog the author MUST be credited.)