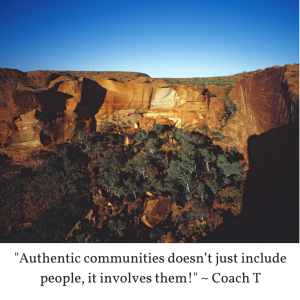 The best hope for a revolutionary transformation to take place to create a world that works for everyone is a worldwide, grassroots revolution of love in action, based in authentic community.
In this community we have to engage in open conversation and communication between elders honed by sometimes brutal experience and the wise and impassioned young, hungry for a way out of terminal disaster and for a way of life in alignment with their hunger for a new way of being and doing everything.
We long to be connected with others in an authentic community. What steps can we take to create authentic communities? Authentic communities welcome new people from all backgrounds. Authentic community does not have a max capacity there is always room for someone else that may need and can offer what your community is up to. Authentic communities collaborate with others. Before change can take place, leaders must recognize the need for intentional collaboration regarding policies, procedures and decisions. Only collaborative leadership can make communities succeed. Authentic communities empower those on the same mission. The greatest path to success is the path that helps lead other people to it. Authentic communities doesn't just include people, it involves them. We should absolutely be welcoming of new people.
However, if we welcome new people yet never engage them into the mission of our community, we have truly invited them at all. If you let them in and never let them participate, they aren't truly a part of your community. To build authentic communities we must invite, involve, conspire. In the end, the success of your community will not only go as far as the success of those within it. Build your influence and carry out your vision by leading your community and engaging them in all that you do.
To Listen To Audio Affirmations Click H.I.P. Inspirations
Until Next Time..Check Out Our H.I.P. Living Now Newsletter & Remember
"Give Yourself Permission To Being Your Best Self™" & Join Our Communities on Facebook & Twitter
 For More Info Email Us At info@hipcoaches.com.
(Any content REPRODUCTION from this blog the author MUST be credited.)