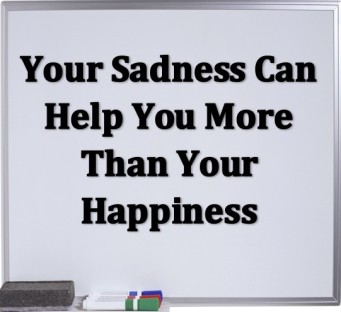 Imagine for a moment that you get that your sadness is absolutely yours?
It is authentically yours! Yet on the same coin lies your happiness which is shallow and not yours because often times it depends on something or somebody. Anything that makes you dependent is not yours. Be it the girlfriend, boyfriends or job, all that can change in the twinkle of an eye and with it goes your happiness. Frequently we try to avoid our sadness by not seeing or feeling it. We numb this with sex, drugs, shopping and food for example.
If we feel sad, we watch a comedy or go shopping or merely start doing something so that we neither feel or look at our sadness. What if your sadness was a sacred space that when explored could take you deeper within yourself? What it there where gifts and talents to be mined from this sadness? Lessons and insights to be learned? Could there be beauty in sadness?
Rather than jumping from one shallow happiness to the next why not utilize sadness to unlock your truth. When we cover ourselves with the different things we chase we are simply masking ourselves – creating layers that will eventually need to be peeled away. What essentially happens when you get acquainted with your sadness is that you take back your power from the external people and things that you thought you depended on and connect to the true power within. People will come and go, your positions or states will always experience seasons but your true self will always be there. Get to know it deeply and like my teacher would say first love then know (meditation).
Love you by peeling away the masks, know you by sitting in silence, choose to meditate in the sadness – a place of discovery.
To Listen To Audio Affirmations Click H.I.P. Inspirations
Until Next Time..Check Out Our H.I.P. Living Now Newsletter & Remember
"Give Yourself Permission To Being Your Best Self™" & Join Our Communities on Facebook & Twitter
 For More Info Email Us At info@hipcoaches.com.
(Any content REPRODUCTION from this blog the author MUST be credited.)