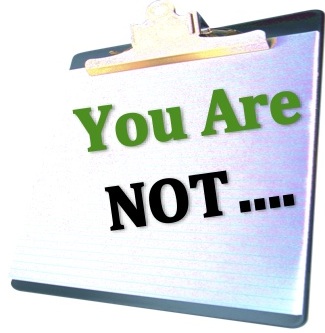 Believing you are not creates all kinds of drama and suffering in one's life.
You are not the way you should be, you are not good enough, perfect enough or wealthy enough. These are some of the erroneous beliefs we have accepted as truth. The truth is, in potential we are all whole and complete. No amount of searching outside ourselves to fill any perceive holes within can validate this truth. Believing the lies that you are not sends you on a search for an image outside yourself. When really you should be unleashing the image into the world.
Sometimes we believe so wholeheartedly these lies that we create structures in our lives to support them. The only way to prove this theory is to attempt pulling down the structures you have created and examine their foundations thoroughly. Simply try stop pretending to be what you're not. Keeping up with the Jones, or the need to impress parents and friends as you conceal the insecurities and self judgments that needs healing. All those structures are really stories you have bought into.
The stories you have bought into (with your faith) becomes self-fulfilling prophecies in your life. They do because "thoughts held in mind reproduces after their kind." Flip your beliefs about yourself and watch your life change before your eyes. If you flip your beliefs ( what your accepted to be true) the attention of your faith will follow and new experiences will be demonstrated. Rather than singing the song "I am not" try the tune "I AM".
To Listen To Audio Affirmations Click H.I.P. Inspirations
Until Next Time..Check Out Our H.I.P. Living Now Newsletter & Remember
"Give Yourself Permission To Being Your Best Self™" & Join Our Communities on Facebook & Twitter
 For More Info Email Us At info@hipcoaches.com.
(Any content REPRODUCTION from this blog the author MUST be credited.)