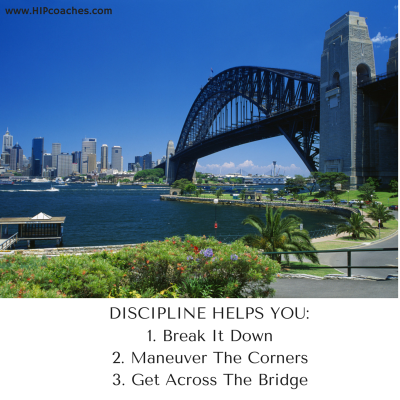 How do you get across the bridge before you?
The one you have created with your imagination and laced with trimmings of accolades and achievements that will support you in living your best life. Often times we can envision so well the life we desire. The relationships we would like to experience and the family and friends we would like to help out. The imagery keeps us up at night and perhaps we retell the stories over and over to those around us.
However, there comes that time when we must get the goals and dreams from our minds and into our expressed world, where they become accomplished and or manifested. No longer can you leave it to chance or the big break to get this done but you must begin at once to take the necessary steps. Crossing this bridge is really about the practice discipline. Using the practice of discipline can help you in three ways:
 Breaking It Down
A goal that the mind perceives as too big can be very overwhelming and this often leads to one becoming stuck before the journey has begun. Breaking down the goal into smaller pieces and implementing the practice of discipline will allow the mind to say yes to the impossible. Not only will the mind say yes but you will move into action beyond the starting point and ultimately into the finishing leg of the goal.
Maneuver The Corners
Life happens! The constant with life is change and this we must get comfortable with as we begin the process of accomplishing our goals. Not everything will work out as planned and that is okay. The practice of discipline allows you to develop the habit of success. The muscle of never giving up will be worked adequately that when the corners appear you will be better equipped to navigate them.
Getting Across The Bridge
The practice of discipline will support you in connecting your goals to the accomplishment of your goals. It will take the goals from your minds into your experience so that you can live them. It will give you a daily update on how you are doing on your task and exactly what position you are in on the bridge. It will be your guide post along the way to living the life you were created to live.
Healthy, Inspiring, Purposeful people knows this. They know that discipline is the bridge between goals & accomplishment and without discipline goals are not accomplished.
Be H.I.P. cross that bridge daily.
To Listen To Audio Affirmations Click H.I.P. Inspirations
Until Next Time..Check Out Our H.I.P. Living Now Newsletter & Remember
"Give Yourself Permission To Being Your Best Self™" & Join Our Communities on Facebook & Twitter
 For More Info Email Us At info@hipcoaches.com.
(Any content REPRODUCTION from this blog the author MUST be credited.)