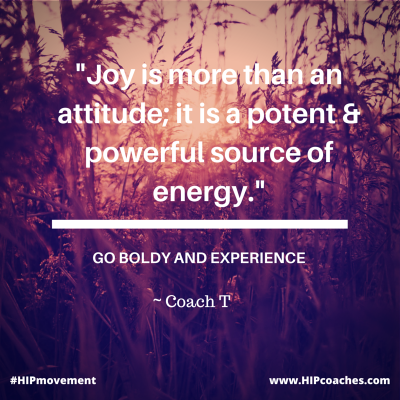 Joy is a decision.
It is a conscious choice. But it is even more than that. Joy is an obligation. We have an obligation to express and share our joy with the world – our unique calling. In this light, joy is more than an attitude; it is a potent and powerful source of energy. One of the major reason that so many people are depressed – living joyless lives is that they are not living their unique calling – they are wearing someone else's shoes.
If you are wearing someone else's shoes, living someone else's print – then there is a level of depth you can never achieve. And what you do achieve will give you far less satisfaction than if you walk a mile or a lifetime of miles in your own shoes. If this resonates with you and you desire support in walking in your own shoes, contact us at info@hipcoaches.com. We will support you in living a H.I.P. life walking in your own shoes.
To Listen To Audio Affirmations Click H.I.P. Inspirations
Until Next Time..Check Out Our H.I.P. Living Now Newsletter & Remember
"Give Yourself Permission To Being Your Best Self™" & Join Our Communities on Facebook & Twitter
 For More Info Email Us At info@hipcoaches.com.
(Any content REPRODUCTION from this blog the author MUST be credited.)