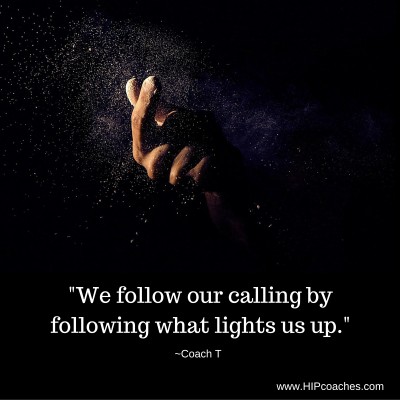 "Don't ask what the world needs. Ask what makes you come alive, and go do it. Because what the world needs is more people who have come alive." ~ Howard Thurman
You are here for a reason! Your soul is eternally calling you in the direction of your highest path. The meaning of life is to find your gift. The purpose of life is to give it away. When you find your gift, you would have found what lights you up. And when you find what lights you up, your calling is to give it away.
We follow our calling by following what lights us up. Your light is contagious. Your inner light is craving to be shared by those around you, by the world at large – but mostly by you. When you share your unique light bit by bit, you light up lives around you. And one by one, you inspire them to light up too. It's a chain reaction. And before long the whole world lights up. Your light is contagious.
Our soul is always calling us towards what will light us up. How do you discover what lights you up? Start small and follow the invisible trail of the things you love; before you know it you will land smack bang in the middle of your calling. You are never too old to answer your calling and it can never be too late. For the truth of the matter is that your soul is always calling. Are you listening? Have you answered? Follow what lights you up.
To Listen To Audio Affirmations Click H.I.P. Inspirations
Until Next Time..Check Out Our H.I.P. Living Now Newsletter & Remember
"Give Yourself Permission To Being Your Best Self™" & Join Our Communities on Facebook & Twitter
 For More Info Email Us At info@hipcoaches.com.
(Any content REPRODUCTION from this blog the author MUST be credited.)