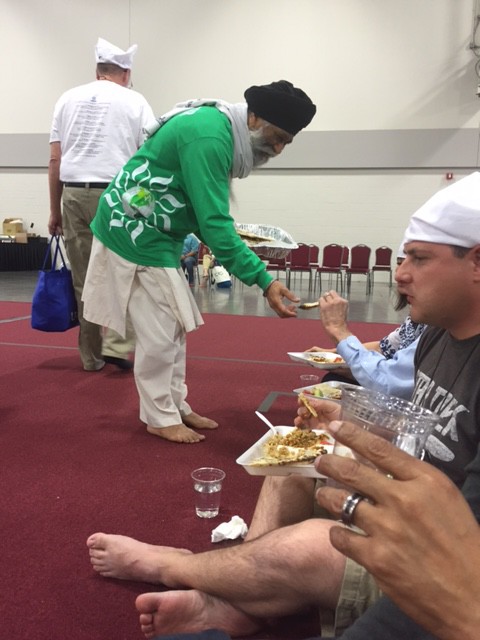 The Parliament of the world's religion has been an amazing adventure and eye-opening experience thus far. To see, experience and be reminded of the freedom we enjoy here in the United States, to come together over 9500 people strong from all different religions and we are safe and free, to share and love each other is heartfelt.
This has been an over the top view of interfaith. I was sharing with Charles that I need to go back and visit my personal perception of interfaith and most importantly the big "WHY?"… So much of the conversation in the conference has been on having a voice on the issues of the world but most importantly "reclaiming the heart for our humanity."
Today I had lunch with the Sikhs and it was an amazing experience. The reverence and humility of service connected to my own heart deeply and as I sat crossed legged, with no shoes and a head wrap, I raised my plate to be served a delicious meal.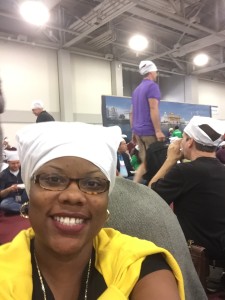 I was overcome with humility as I felt the presence of our brothers and sisters across the world who raised a similar plate asking for a "handout". One of the volunteers explained to us that the tradition of sitting this way came from the leader / teacher who believed that there is nothing to teach or learn unless we are all at the same level…. whoa!!! I can tell you the whole experience was just that. It didn't matter who you are in statute etc we all ate and share the same way.
I am grateful to the Sikhs for modeling this space of humility for me today! They taught me a practical lesson. How will you be of service to others? Would you be open to eat and share in this way?
To Listen To Audio Affirmations Click H.I.P. Inspirations
Until Next Time..Check Out Our H.I.P. Living Now Newsletter & Remember
"Give Yourself Permission To Being Your Best Self™" & Join Our Communities on Facebook & Twitter
 For More Info Email Us At info@hipcoaches.com.
(Any content REPRODUCTION from this blog the author MUST be credited.)