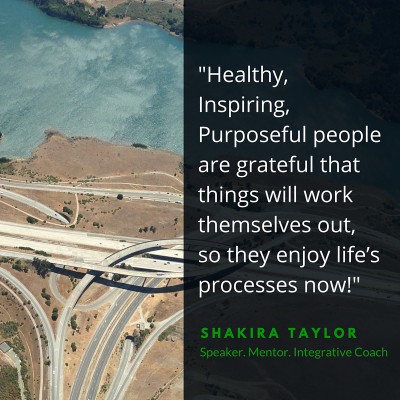 H.I.P. people are grateful that things will work themselves out, so they enjoy life's processes now. Be H.I.P. Enjoy your life in the moment now.
Enjoying life's processes is easier said than done. For most people this can be very challenging as they get caught up in the activities of life. Some circumstances and situation which are even emotionally charged can be quite difficult to release and ultimately trust that they will work out. Recently I was listening to Eckhart Tolle (one of my morning routines) and he reminded me about the "it" in our minds that causes us to be stuck in position. The "it" he spoke of was fear. He continued to explain that until we release the fear we will not be able to see the possibilities and deal with the facts of the situation.
This for me was a personal reminder as I could attest to the feeling of "stuckness" particularly in the financial life structure area. Usually until I can gain the momentum of gratitude to move forward, any out of the norm bills etc. can trigger different emotions. My financial mentor takes me through these releasing exercises that are just so phenomenal because usually the triggers are attached to some shadow belief that I accepted along my path and busting these shadows are my hobby and job.
I recall a couple years back receiving a letter in the mail for some violation. At first I was so perturbed at the violation itself that alone had me frozen. How could that even be possible? Triggers of "I am right, they are wrong and "there is never enough" reared its head. I did a bit of research and then I left the letter on my desk. I wasn't certain what I was thinking – perhaps the situation would magically disappear? Fear had me in the position of not even talking about the situation or making a few calls to rectify the situation amicably.
About four months later I received notice that the violation was escalated to an attorney's office and all matters would be handled through that channel. At this point I am sweating bullets, kicking myself for ignoring the matter and then looking at the information to see that my fears around money had self-fulfilled. The bill increased from $250 to $2000 in a matter of four months. What a price to pay for not handling my affairs? Especially around money. The fear of paying out an unbudgeted $250 had me stuck. Fortunately, I was open enough to see that the universe was revealing to me a pattern within myself I could now change. This happened at a time when I open and receptive to trusting the process. I got up every morning with the attitude "with or without the $2000 I would be okay." This was my mantra perhaps four or five times a day. If there were any constrictions in my body I would repeat the mantra, taking deep breaths until I was at peace. Doing the work around my triggers was also very helpful to the process. Within 2 weeks with very little interaction or energy the bill dropped to $300 and an extended time to make payment.
Creating a state of gratitude is necessary to navigating this school called life. Things will not always look rosy, because life happens and change is inevitable. But H.I.P. individuals know this and they are always open to finding the little things to be grateful for. There is a lesson in every experience and the reactive position we take will determine how we grow through them. Enjoy your life in the moment no matter what.
To Listen To Audio Affirmations Click H.I.P. Inspirations
Until Next Time..Check Out Our H.I.P. Living Now Newsletter & Remember
"Give Yourself Permission To Being Your Best Self™" & Join Our Communities on Facebook & Twitter
 For More Info Email Us At info@hipcoaches.com.
(Any content REPRODUCTION from this blog the author MUST be credited.)