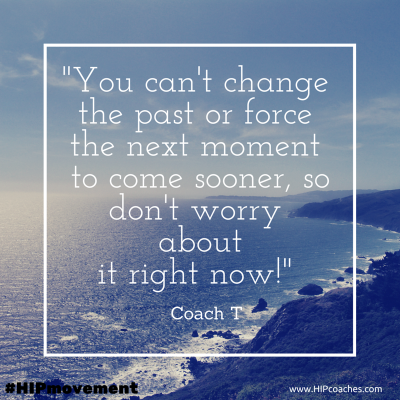 The secret of peace is open to the crack between the past and the future and live in the moment we are in. ~ Coach T
How many times have you heard, 'your thoughts create your life?"  The thoughts we focus on the most are the ones that influence our emotional states, our behaviors, actions and the results in our lives. Some thoughts are empowering and support us in creating productive, magical and fulfilling lives. Other thoughts are debilitating, creating stress and suffering, while stifling our growth, happiness and progress. Some thoughts are based in reality, other thoughts are made up in the mind and not true.
Can you identify with this quote from Mark Twain – 'I spent half my life worrying about things that never happened.' How many of us spend our time regretting the past or worrying about the future when the present moment just slips by with a kind of subtle or not so subtle indifference?  Why do so many of us live in fear and worry when there is a better way? What is a better way?
Next time you find yourself regretting the past or worrying about the future remember this – you can't change the past or force the next moment to come sooner, so don't worry about it right now. Go out and do something for yourself instead. Imagine this as the last opportunity you will have to do what you are doing. Savor the present moment. The next time you have to wait in line, use this free time as an opportunity to take notice of the world. This is a path to peace. Remember, how we spend our days in how we spend our lives.
Until Next Time..Check Out Our H.I.P. Living Now Newsletter & Remember
"Give Yourself Permission To Being Your Best Self™" & Join Our Communities on Facebook & Twitter
 For More Info Email Us At info@hipcoaches.com.
(Any content REPRODUCTION from this blog the author MUST be credited.)