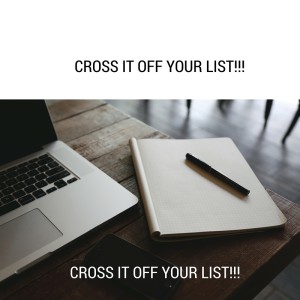 This is how most people stop themselves.
They tell themselves things like, I don't believe it would work, I don't have enough desire for it. I don't have enough passion. I don't trust yet. I guess I have to be more of a believer before I start doing this. And so they are all hung up on these very deep emotional ideas.
Darkly sentimental deficits are soon showing up as waves. Not believing in yourself, not believing in a process, not trusting this, wishing for that, hoping, seeking confidence… all the fearful, Gothic and romantic concepts that we allow to stop us.
If I were coaching you, I would ask you to cross all that stuff of your list. You know that list you have? Of things you think is missing, for you to be successful. Like belief in yourself. Like the willingness to trust things. You make the list because you think you have to trust something before you do it.
You don't. Cross off – believe in myself, as something you need to do today. Once you cross that off, you can see how simple your day has become. You no longer have to trust something before you do it. Now all you have going to do is do it.
Until Next Time..Check Out Our H.I.P. Living Now Newsletter & Remember
"Give Yourself Permission To Being Your Best Self™" & Join Our Communities on Facebook & Twitter
 For More Info Email Us At info@hipcoaches.com.
(Any content REPRODUCTION from this blog the author MUST be credited.)