Posts Tagged 'living on purpose'

Big idea: your days are your life in miniature.
As you live your hours, so you create your years. As you live your days so you shape your life. What you do today is actually creating your future. The words you speak, the thoughts you think, the food you eat and the actions you take or do not take are defining your destiny – shaping who you are becoming and what your life will stand for. Small choices lead to giant consequences over time. There's no such thing as an unimportant day or choices.
Read more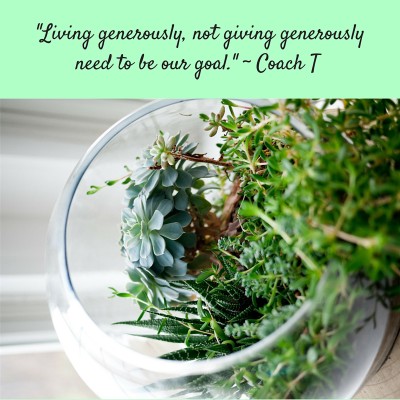 As we pondered these questions it was revealed to me that I can be generous in how I give without being generous in how I live.
Conversely, it was revealed that a person who lives generously always gives generously. In other words, when we give generously, we can pick and choose when and how and to whom to give. We may be willing to be extremely generous in giving what we want to give where we want to give it. But with what we don't want to give we can actually find ourselves being just as selfish and tight-fisted as the infamous Ebenezer Scrooge.
Living generously, not giving generously need to be our goal this way we won't be like many who give generously during Christmas, but don't live generously throughout the rest of the year. There are three characteristic of people who are living generously – which leads to greatness.
Read more